Will be available in: French and German, thanks to our global volunteers!


A Practical Guide to Stop Interpersonal Violence
"The CI toolkit is my go-to reference whenever I begin a new community accountability intervention. I've often remarked that it is the Bible for most facilitators I know."
Founder of Project Nia & co-author of Fumbling Towards Repair: A Workbook
for Community Accountability Facilitators & author of We Do This 'Til We Free Us
"This toolkit is accessible, concrete, thorough and filled with years and years of lessons…It offers practical information and practices for transformative justice/community accountability, without shying away from the very real challenges and complexities of this work."
Founder of Bay Area Transformative Justice Collective (BATJC)
& author of Leaving Evidence
"Creative Interventions is an invaluable survivor-centered resource that provides practical tools that use community accountability and transformative justice as viable options instead of the criminal justice system. We can respond to violence without using violence, and Creative Interventions shows us the way."
Director of No! The Rape Documentary & editor of
Love With Accountability: Digging Up the Roots of Child Sexual Abuse
"Instead of writing about transformative justice as a theoretical nice idea, the Creative Interventions toolkit is packed with tools and readings to work through the real deal of interrupting violence without the cops...In a bold time when we are closer than ever to making abolition and defunding police and prisons real, this toolkit is more necessary than ever."
Leah Lakshmi Piepzna-Samarasinha
Co-editor with Ejeris Dixon of Beyond Survival: Strategies and Stories
from the Transformative Justice Movement & Author of Care Work
The Creative Interventions Toolkit is one of the clearest and most practical resources to build transformative justice and community accountability skills that our movements have...If you want to deepen your practice, through one resource, start here."
Founding DIrector of Vision Change Win Consulting & Co-editor with Leah Lakshmi Piepzna-Samarasinha
of Beyond Survival: Strategies and Stories from the Transformative Justice Movement.
"The Creative Interventions Toolkit is the in-depth practical guide that people looking to come together to support people experiencing violence need. It provides a roadmap for doing this important work, helping groups anticipate and navigate common problems. It is thorough and clear, and so essential to building the world we want."
Founder of Sylvia Rivera Law Project & author of
Normal Life: Administrative Violence, Critical Trans Politics and the Limits of the Law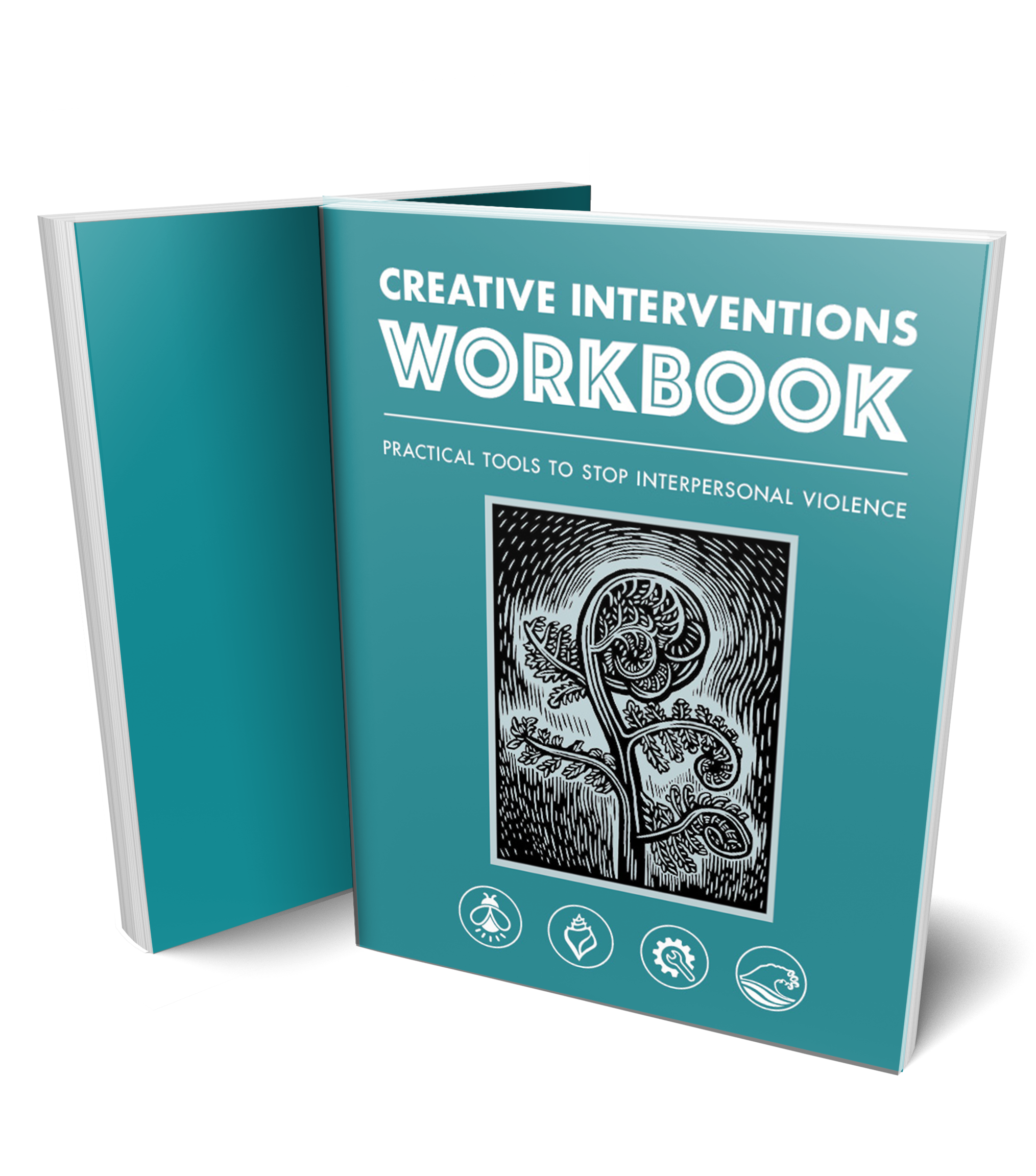 Creative Interventions Workbook
Creative Interventions Workbook: Practical Tools to Stop Interpersonal Violence is a companion workbook to the Creative Interventions Toolkit. The 100 page workbook features key tools, worksheets, and ideas. You can copy and download our free beta1 of the workbook via googledoc or word document to adapt to your own needs and to create shared documents with the group(s) you work with. A downloadable pdf version is also available. AK Press will publish a paperback version of the workbook available September 27, 2022.
The paperback version is available for pre-order now at 25% off! Click below for pre-order.