The Spark.
"After taking hundreds of crisis calls from survivors of domestic violence, I realized that I always asked the questions, "Have you thought of leaving?" "Did you call the police?"
"Why did my solutions assume that leaving was the only option?
"Why did they assume that the best way to achieve safety was to call the police?"
"Why weren't there any other options?"
Mimi Kim, the founder of Creative Interventions, asked these urgent questions. Through her years of work in domestic violence and sexual assault, Mimi came to realize the limitations of the narrow options offered to those seeking solutions to violence.
Mimi witnessed how many survivors in her own community refused the very options she offered. She saw how many people wanted to stop the violence but did not know how or where to start.
Why wasn't there a space for the people closest to and most impacted by violence to envision and create ways to make it stop? Why weren't violence intervention resources offering education, skills and support useful to everyday people wanting to stop violence among those they care about? Why did community education teach how to recognize intimate forms of violence but not how to stop it?
Creative Interventions was founded to shift education and resources back to families and communities. Established in 2004, the project aimed to place knowledge and power among those most impacted by violence. Creative Interventions sought to make support and safety more accessible, stop violence at early stages of abuse, and create possibilities for once abusive individuals and communities to evolve towards healthy change and transformation.
More about the

Founder, Mimi Kim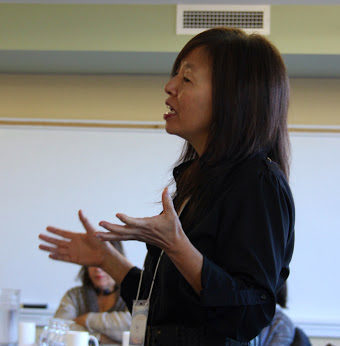 COMMUNITY CAPACITY BUILDING
In response to the ongoing need for capacity building in the areas of community accountability and transformative justice, Creative Interventions continues to produce knowledge, offer trainings, and support organizing – locally, nationally and globally. Efforts focus on seedling and small sprouts initiatives in grassroots communities of color – and – society-wide transformations in safety from law enforcement to communities of care.
Look out for:
Translation of toolkit to Spanish (available) (French and German now being translated – thank you to global volunteers)
Creative Interventions Workbook (beta soon available)
StoryTelling & Organizing Project (STOP)
The StoryTelling & Organizing Project (STOP) was created to collect and share stories about everyday people taking action to end interpersonal violence.
While many of us support the idea of community-based responses to violence, some of us have difficulty even imagining what this could look like. What we found is that people have many stories about things they did to stop violence. Some are small things, some spontaneous, and some are big or involve lots of planning and lots of people.
In 2021, Creative Interventions will re-launch the StoryTelling & Organizing Project with Chicago and NYC-based collaborators. Be on the lookout for more information.
The outside symbol is a Korean flower motif. The 8 nested circles represent not only the petals of a flower but people coming together in a circle. The inside symbol is tong ren from the I Ching or Book of Changes. Its meaning is to "seek harmony" or to "come together to overcome difficulty."